Guitar lessons at The Academy (grades 1-6) are divided into 2 50 minutes classes: one guitar class and one theory/ensemble class theory/ensemble class. New students are initially assessed, then assigned an appropriate instrumental/vocal class and a theory class. Classes are designed to match age, ability and musical interest. The academic year consists of Semester 1 (September to January) and Semester 2 (January to May). Students may apply to enrol at the start of either semester, with priority given to those on waiting lists.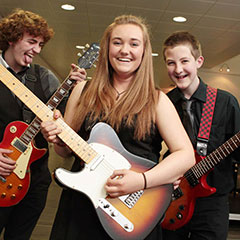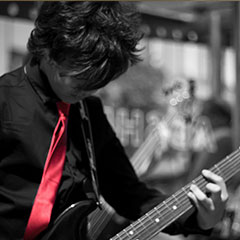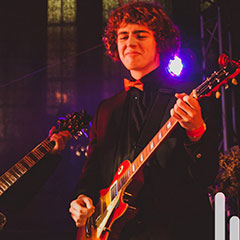 Students receive certification after completing both semesters and passing all exams (theory sem 1&2, instrumental exam (sem 2) and continuous assessment). All students receive numerous performance opportunities. This is to ensure that learning is cemented in practical application and that the learning process is rewarded with positive outcomes. Fees are €410 per semester.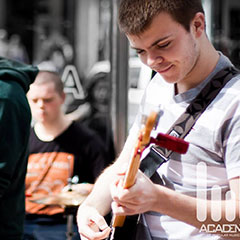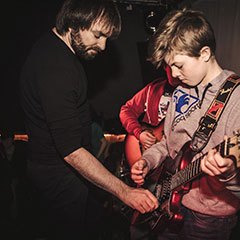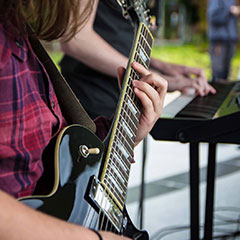 Rory has many years experience playing and teaching music. He gained his degree via Sussex University and the Brighton Institute of Modern Music in the UK in 2008, and achieved a Masters in Music Performance at the Cork School of Music in 2015.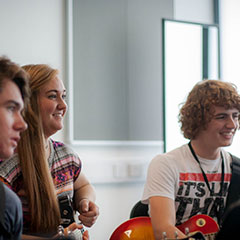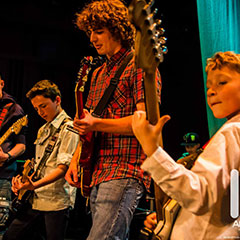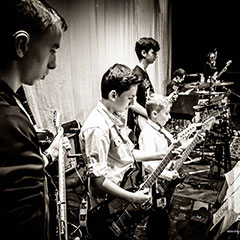 He teaches guitar at the Academy of Popular Music, which last year saw it's usual event schedule expand to accommodate extra guitar concerts as well as masterclasses from the likes of Jamiroquai guitarist Rob Harris and bassist Paul Turner. Before teaching at the Academy he has had the opportunity to tour with a number of artists in Europe and the US, in particular performing to over 10,000 people at the Colours of Ostrava festival in Poland with Brendan Perry (Dead Can Dance) in 2011, the Paradiso in Amsterdam with Robin Proper-Sheppard (Sophia) in 2009, and the Tall Ships Festival in Shetland with Astrid Williamson in 2011.
Since moving back to Ireland he is kept busy playing around the country with Cork band J90. He also plays with a jazz fusion band comprised of CSM tutors and BAPM degree alumni, who have hosted guest players such as Peter Dobai, Nikolaj Nikitin and Emil Nerstrand as part of their recent residency gigs.