This course will consist of the following:

A 2 day seminar over the 1st semester mid term (Tue/Wed 29th & 30th October 10am-4pm), covering basic Maschine skills and hiphop;

A 2 day seminar over the 2nd semester mid term (Mon/Tue 17th and 18th February 10am-4pm), covering hiphop (cont.) and EDM;

A 1 day seminar over the Easter holidays (date TBC) covering the Pocket Operator 33 (purchase not necessary), exam preparation and sundry items.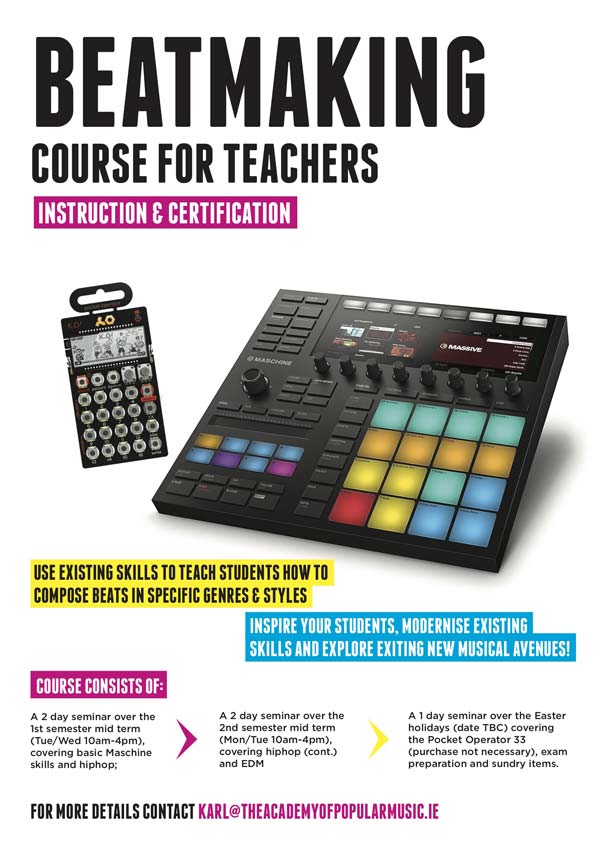 Completion of the above and a successful exam will lead to certification and the necessary qualification to put your students forward for the Academy's Beatmaking grades. The exam (early June, date TBC) will consist of a portfolio of submitted beats (60%) and a practical exam (40%). The practical examination will consist of recreating a specified track (covered in class) in a designated time, on Maschine.
Items required for class:

The class will be taught on Native Instrument's beatmaking software/hardware ecosphere Maschine. This was chosen as it represents the best performance to price point ratio (Maschine Mikro Mk 3 is c.€220- other iterations of Maschine are also acceptable). Please note that a laptop, loaded with the bundled software that comes with the hardware, is required for class. No prior experience in Beatmaking is necessary. Applicants must hold the requisite qualifications of an Affiliate Academy Teacher (details as per website).

Cost is €600, payable in instalments as necessary. Email for more info. Expressions of interest to: karl@theacademyofpopularmusic.ie